College Football Saturday Late Game Free Pick: SMU vs Tulsa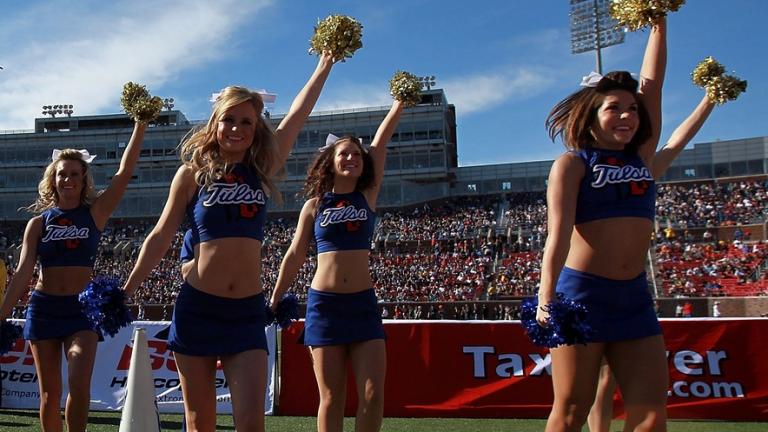 A big American Athletic Conference matchup is scheduled for Saturday night as the #19 SMU Mustangs (7-1) take on the Tulsa Golden Hurricane (3-1). This is a big game for both teams to try and keep pace in the American with undefeated #7 Cincinnati.
SMU Betting Analysis
SMU likes to operate a fast-paced air-it-out type offense. While that helps them put up big numbers against weak opponents, we saw this season it isn't exactly the most effective against good teams.
A couple weeks ago, Cincinnati held SMU to just 13 points. We also some some other weeks where the offense didn't quite perform like it should have, like 31 points against Texas State and 30 against a weak Memphis defense.
Defensively, the Mustangs allow a lot of points. Think of SMU sort of like the Seattle Seahawks. Their defense is never going to win them a game, their offense needs to carry the load and if they run into a decent enough defense, they are in trouble.
Tulsa Betting Analysis
Tulsa is a team that has a good defense and a surprisingly solid offense as well. Tulsa held Oklahoma State to just 16 points, but suffered their only loss as their offense managed just seven points. They held the offensive juggernaut UCF to just 26 points, USF to 13 points and an ECU offense that put up points to just 30.
Tulsa's offense is solid and can run and pass the ball decently well. Quarterback Zach Smith is having a pretty good season but needs to limit his interceptions (5). The Golden Hurricane have two running backs in Deneric Prince and T.K. Wilkerson who can both be big factors in their offense. SMU vs Tulsa Free Pick and Prediction Tulsa's defense is the second-best in the AAC behind a stout Cincinnati defense. They should be able to limit the potent SMU offense as well as any team in the conference, other than the Bearcats. While they may not dominante them as well as Cincy did, Tulsa should be able to give SMU one of their toughest challenges of the season.
Tulsa can also put up points on offense. If Smith can hold on to the ball, they should be able to get a comfortable win against SMU. Regardless of Smith's performance, I like Tulsa's defense to help them get the win in this one. The Tulsa offense can also control the clock on the ground and dictate the pace in this game.
Ignore SMU's ranking, Tulsa is the better team and should get the win at home.
Pick: Tulsa-1
Published YTD Results: (11-4) 💰