Wednesday MAC-Tion Free Betting Pick: Toledo vs Eastern Michigan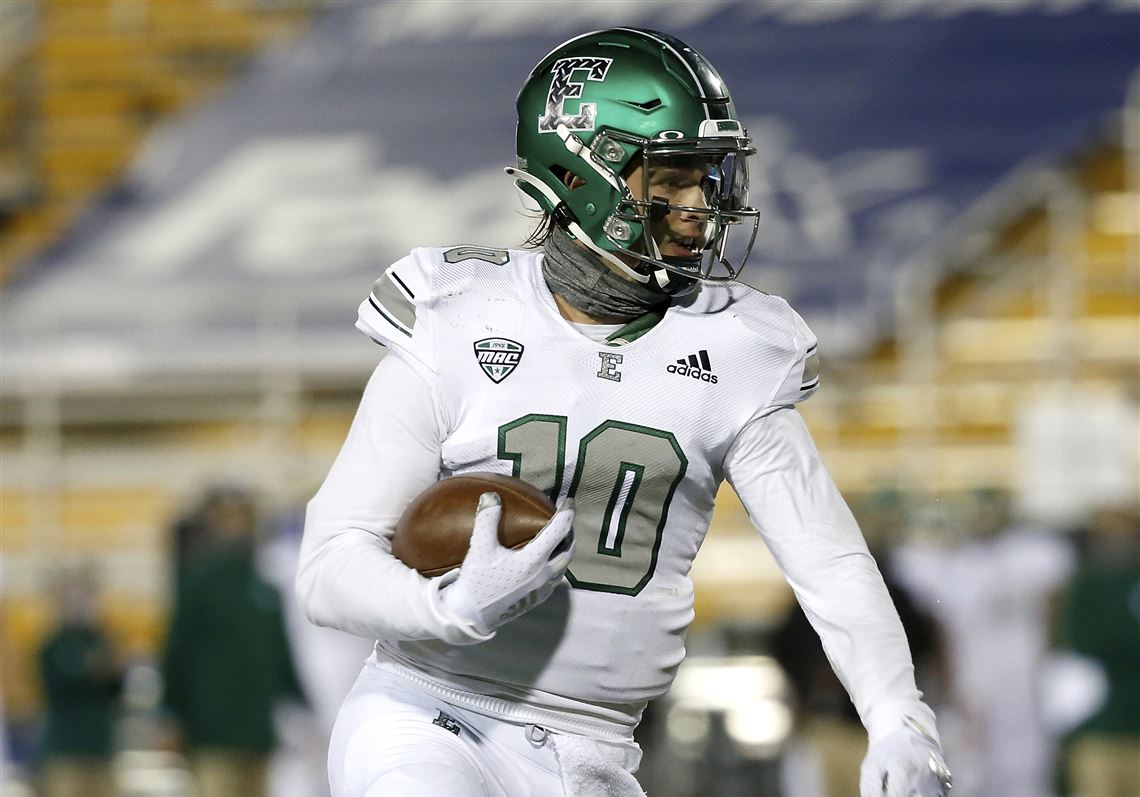 Thanks to glorious MAC football, we are in the middle of enjoying nearly a month-straight of daily football. That continues on Wednesday night as the Toledo Rockets (1-1) will take on the Eastern Michigan Eagles (0-2)
Toledo Betting Analysis
The Toledo Rockets were a popular non-favorite betting choice for the MAC title this season. They opened their season with a blowout win over Bowling Green (the worst FBS team in the country) 38-3. Then, they dropped a heart-breaking loss to Western Michigan 41-38 after an onside-kick recovery and fake-spike gaming-winning touchdown with 17 seconds left.
The Rockets' offense spends a lot of time on the field. They are second in the country in time on the field and also third in plays ran. However, a lot of that can be contributed to the fact that they played Bowling Green. So while they are top 25 in the country in passing offense, rushing offense, and points scored (all per game), how much can we really trust those numbers?
The same could be said about their 33rd-ranked defense. When one of your two games comes against the worst FBS team in the country, it's hard to trust statistics like that.
Eastern Michigan Betting Analysis
Unlike Toledo, Eastern Michigan has played two of the MAC's better teams. They lost them both in close fashion. They lost to Kent State 27-23 and Ball State 38-31. Both of which were expected to be among the best in the MAC behind Buffalo. The Eagles played them both well.
So when you see Eastern Michigan has the 77th-ranked offense and 83rd-ranked defense through two games, the same could be said about their numbers like Toledo's. With Toledo, it is hard to trust how good their numbers are. With Eastern Michigan, it is hard to fault them for those numbers. It's all about strength of schedule thus far, which EMU leads by a mile.
Toledo vs Eastern Michigan Free Pick and Prediction
Toledo likes to have quarterback Eli Peters throw a lot (78 times in two games). He torched Bowling Green, but wasn't that impressive against a vulnerable Western Michigan defense (30/46 339 yards, 1TD, 1INT). Running back Bryant Koback is averaging 22.5 carries but just 76 yards per game (3.4 YPC). So while Toledo's offense may have good numbers, they really don't look to be that great, especially considering their opponents.
EMU quarterback Preston Hutchinson hasn't been great this season (491 passing yards, 3TD, 2INT) but he has been solid, considering the quality of opponents. He also showed in his last game against Ball State that he is capable of being a runner as well (104 rush yards).
In this matchup, you have to look deeper than the numbers. Toledo outshines EMU in every category, fairly significantly. However, you got to realize that Toledo played BG and a WMU team that can be scored on. EMU has played two of the best teams not named Buffalo in the MAC.
EMU is a solid looking team by MAC standards. Toledo is likely a solid team as well. In fact, these are probably two very equal teams when it's all said and done. That is why you want the points in this one. EMU very easily can win this game and show that they are the better team. At the very least, with +7, we should see a push if we don't cover.
Pick: Eastern Michigan +7
(Published YTD Results: 12-6 💰)